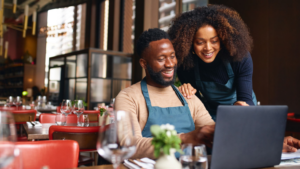 "SBA Loan" is one of the most Googled terms when it comes to business loans. Why? SBA loans are partially backed by the Small Business Administration (SBA), typically have lower interest rates and, in some cases, are easier to obtain. Depending on the type of SBA loan, borrowers can take advantage of more generous repayment terms and caps on interest rates.
If your business has been turned down for a loan in the past, or you haven't been able to find a loan product that fits your business, SBA loans have probably popped up on your radar more than once. In a previous post, we broke down the different types of SBA loans and listed out their pros and cons. This post focuses more on an overview of how SBA loans work and what you'll need for applying, as well as how to apply and suggestions on possible bridge loans to tide you over through the process.
How Do SBA Loans Work?
The three main types of SBA loans are 7(a) loans, 504 loans, and microloans. The type of loan you apply for depends on your business needs. Here's a basic rundown of the differences:
7(a) Loan

: The SBA's f

lagship loan, 7(a) loans can be used for working capital, to fund equipment purchases, acquire real estate, business expansion, and a myriad of other uses. 7(a) loans are typically available in amounts up to $5 million and generally have a repayment term of up to 10 years; real estate loans may offer up to a 25 year term. There are different types of 7(a) loans, so it's best to check with your lender to determine the right loan for your business needs.
504 Loan

:

504 loans are usually for real estate or equipment purchases. They provide long-term, fixed-rate financing at below-market interest rates. Loans are available in amounts up to $5 million with repayment terms of up to 25 years.
Microloan

: Microloans provide up to $50,000 of funding for working capital, inventory purchases, equipment, or other business expenses. These loans are made through nonprofit community-based organizations and may require collateral.
Each loan type has slightly different eligibility requirements and repayment terms, and some require collateral.
Advantages of SBA Loans:
SBA loans have many pros that make them more attractive and practical for businesses, including:
Low Interest Rates – SBA interest rates are typically lower than what's offered by online lenders. Rates for SBA loans are comparable to non-SBA loans.
Small Down Payment – Not all SBA loans require a down payment, but the ones that do are typically lower than a traditional (non-SBA) loan.
Long Repayment Terms – Some options provide repayment terms up to 25 years.  Even for loans with a maximum repayment term of 10 years, SBA loans generally offer longer repayment terms when compared to non-SBA loans.
Wider Variety of Uses – SBA loans have a wide range of uses, from working capital, to purchase equipment or real estate, business expansion or acquisition, debt refinancing and many additional uses.
Drawbacks of SBA Loans:
While there are many advantages to an SBA loan, there are a few drawbacks to keep top of mind as you consider your options.
Longer Application Process – It can take longer to get through the SBA application process, and more documentation is required, the gathering of which also adds to the length of the process.
Longer Approval Timeline – Depending on the lender with whom you work and the product for which you're applying, some SBA loans require both the lender's approval as well as the SBA's. This generally adds about 30 days to the approval process. 
How to Apply:
Just like any loan, you'll want to make sure you have what you need before you click "apply now" (see our loan application checklist to get organized). The SBA loan application process can be lengthy, so it's best to start out prepared by following the steps below:
Step 1 – Make sure you meet the qualifications:
SBA loans can have different eligibility requirements, but these are the basics.
Operate as a for-profit entity

Conduct business in the U.S.

Have cash to contribute to the project for which financing is being requested (this is not always required, but is generally needed)
If you don't meet the above qualifications, stop and re-assess. You may need to look at an alternative lending source in the short term and then come back to the SBA later.
Step 2 – Decide which SBA loan option best fits your needs:
Each SBA loan type has its own set of qualifications and purposes. Research all of the options, weigh the pros and cons of each and determine the best fit for your business.
Step 3 – Choose a lender.
Since the SBA works in conjunction with select third-party lenders to make loans, your application will go through both the SBA and the SBA lender for approval. The majority of 7(a) lenders are banks, while microloan and 504 lenders cover a wider range of lending entities. 
Keep in mind that SBA lenders may have additional eligibility requirements on top of the SBA list, so do your research to find a lender that suits your business. The SBA has a trove of information to help loan applicants, including a lender matching tool that can speed up your research.
Step 4 – Gather your documentation and fill out the application:
Each SBA loan option has a slightly different application process. Since the 7(a) option is by far the most popular choice, we'll focus on the process for that application package. Here's what you'll need:
The Right Forms

:

Every principal owning more than 20% of your business will need to fill out the SBA 7(a) application form and provide a personal history statement.

Personal financial statements detailing any and all assets, debts and sources of income.

Business and Personal Financial Records

:

Tax returns going back three years. If your business is newer, provide what you have. Any principal holding interest of 20% or more of the company will also need to provide three years of tax returns.

Depending on the time of year, most applications will require a year-to-date profit & loss statement along with an accompanying balance sheet.

In some cases (start-up, expansion, acquisition, or turn-around) a lender may also require financial projections.

A debt schedule detailing all existing business debts.

Copies of Important Business Documents

:

Entity documents

Applicable business license(s) or certificate(s)

Business lease, if applicable

Any Additional Details to Help Your Case

:

A summary of your business history explaining past performance, your impact in the marketplace, who your principals are and their resumes, why you need the loan, and how it will further your growth or help you solve a problem. (

Your business story matters!

It's your chance to have a voice in the process.

See our tips for making it compelling.

)

In some cases you may be asked for a business plan as well.
Step 5  –– Apply!
Now that you have all of your documentation, your business history, and any extra supporting documentation waiting in the wings, it's time to submit your application. 
Before you do, it's a good idea to have a trusted business advisor or even a more experienced business owner or mentor look over your application to make sure you're not missing any crucial details. Having an outside perspective to weigh in will ensure you don't have any unexplained gaps that could snag the process.
Feeling confident about your application package? Submit it to the SBA lender for review. If the SBA lender approves your application, it will go on to the SBA for their review process. SBA review times can vary, but most 7(a) loans take about five to 10 days at this stage. (See what to do if your loan is denied.)
The SBA lender will reach out as needed during underwriting. It's important to be responsive and thorough when asked for any supplemental details. Make sure they're never waiting on you to move forward.
The full approval process can take weeks, or even months, to complete because of all of the steps involved. If your loan need is more urgent in the short term, you may consider applying for an online loan to bridge the gap or looking at fast ways to improve your business cash flow. Typically online loans have higher interest rates and shorter repayment terms, but they can help you get by while you wait for your SBA loan approval.
Need a Business Loan? LendThrive Is Here To Help!
We offer fixed-rate business loans with no collateral required. You can get up to $150,000, which you can get in as fast as 24 hours once approved. 
We have a fast and easy online application process. You can apply for a loan from the comfort of your own home within minutes – just another reason why business owners trust Lend Thrive.
Check out our loan calculator to get an estimate, or apply now to get the funds you need.