Business Line of Credit vs. Loan: Here's How to Decide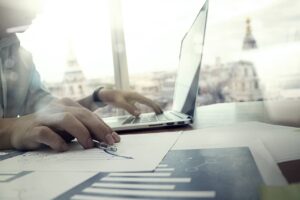 Business loans and business lines of credit are both viable options for businesses looking to grow. Both offer different benefits and can be used to cover business expenses you cannot afford on your own.
So how do you choose which one is right for your business? We're here to help you make this important business decision. We will take a look at what a business loan is, what a business line of credit is, and factors to consider when deciding whether to get a business loan vs. a line of credit.
Defining a Business Loan
A business loan is classified as borrowed capital a business uses to cover expenses they are unable to fund themselves. Business loans can be used in a variety of ways such as to pay employee salaries, purchase office supplies, fund a construction project, and more. Lenders charge the borrower interest on the business loan amount over the loan period. These interest rates can be fixed or variable depending on the loan.
Defining a Business Line of Credit
A business line of credit is a preset amount of capital a borrower can access at any time until the limit is reached. Lines of credit are often used for short-term business expenses such as purchasing equipment or keeping up inventory. As money is repaid, it can be borrowed again until the limit is hit if it is an open line of credit. Similar to a credit card, you will make monthly payments on what you spend from the line of credit.
Now that you know exactly what a business line of credit vs. a loan is, let's look at factors to consider when choosing between them.
Factors to Consider: Business Line of Credit vs. Loan
It can seem difficult to decide whether a business loan or business line of credit is the right choice for your business. Here are some factors to take into account when making this decision.
Interest Rate. Business loans usually have fixed interest rates on the entire lump sum of capital borrowed. For business lines of credit, borrowers only pay interest on what they actually use. Lines of credit accrue interest, whereas business loans are installment credits.
Short-term vs. Long-Term. Do you want short-term funding or funding for a longer period? Business lines of credit are better for short-term funding because they are generally smaller amounts of money. Business loans can be large sums of capital and the repayment period usually ranges from five to seven years.
Usage. Determine what you intend to use this capital for before choosing a funding option. Business loans sometimes have specific approved uses, and business lines of credit can be used for just about anything a business needs.
Amount of Funds. How much money do you need for your business? Business loans generally are larger sums of money compared to the money you can borrow with a line of credit.
Credit score. Know your credit score from the start. If you have a lower credit score, it will be harder to qualify for larger loan amounts. A business line of credit may be easier to qualify for because it doesn't have as large of lending amounts.
When deciding whether to get a business loan vs. a line of credit, it will help make the decision easier if you consider these factors.
Thrive With LendThrive
If you decide a business loan is best for your business, let LendThrive help you grow. LendThrive, a part of AVANA's Family of Companies, is here to help your business succeed. We offer flexible fixed rate business loans with low interest rates. You can qualify for up to $150K and be approved in as little as 24 hours.
Apply now for a fixed rate business loan from LendThrive, or contact us for more information!